FAampus US film company Universal has released a trailer of a documentary called the last milestone that stirs Kenya's world record holder Eliud Kipchoge.
In the 2:02 trailer, Kipchoge speaks about his milestones and marathon journey, encouraging the world to believe in their possibilities.
The documentary is produced and directed by executive producer Ridley Scott who was won numerous awards for his previous work including; Gladiator, Hannibal, Black Hawk Down among others.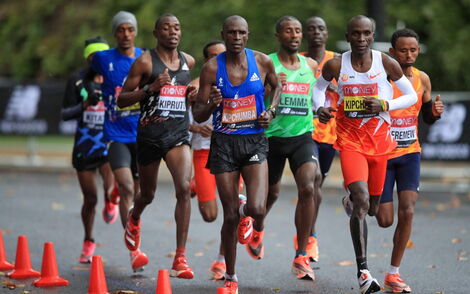 Athletes running during the London Marathon on Sunday 4 October 2020.
AFP
"In marathon, there is a lot of challenges, there is ups and downs, there is pain in training and joy at the end of the marathon. Everybody should believe in their possibilities.
"We wanted to make history and inspire the human family. Everybody should believe, that's what makes us claw and push and push again. Marathon is life," Kipchoge narrates in the trailer.
On Thursday, June 24, the marathoner expressed his excitement at the opportunity to share his journey in his movie.
Kipchoge will document how he was able to run a 42 km race in under two hours, making him the first human being to clock the achievement.
"Join me on my journey as I prepared to make history by running a marathon under two hours. I hope by watching this film you will also feel inspired to run. Coming this summer!" reads a statement on his social media account.
In the marathon, Kipchoge clocked a record time of 1:59:40.
Though an unofficial record, the marathoner entered the Guinness World Records with the titles 'Fastest marathon distance (male)' and 'First marathon distance run under two hours. 
Following his success, Kipchoge won the 2019 Sports Personality of the Year award during the annual Safaricom Sports Personality of the Year Awards. 
He was also signed by the Kenya Tourism Board (KTB) as Magical Kenya destination ambassador.
I am very excited to share with you the trailer for my movie Kipchoge: The Last Milestone! Join me on my journey as I prepared to make history by running a marathon under two hours. I hope by watching this film you will also feel inspired to run. Coming this summer! pic.twitter.com/Xkb8av6bog

— Eliud Kipchoge – EGH🇰🇪 (@EliudKipchoge) June 24, 2021