Kenya's tourist destinations have attracted the wealthy and mighty from across the world. From Royals, billionaires and hollywood superstars, the country is always playing host to big global names.
However, Kenyans have increasingly taken up travelling the country to enjoy the world heritage sites and other hidden gems. Prior to occasions such as holidays, festive seasons and events, a rise in demand for accommodation occurs making it difficult for people wishing to stay the night.
Speaking to Kenyans.co.ke, travel expert and founder of Keitan Safaris Limited Kevin Owino shares the various options people can look at while traveling in Kenya.
"There are different forms of accommodation people can choose from…in Kenya there are businessmen or hoteliers coming up with unique accommodations," commented Owino.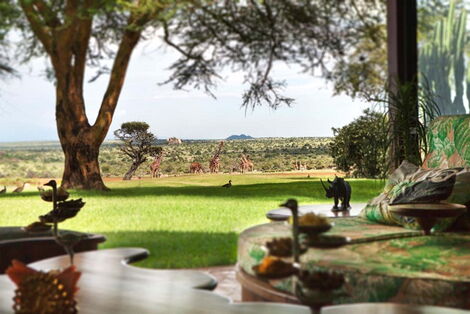 Giraffes in the background at Ol Jogi wildlife conservancy in Nanyuki.
File
Camping and Glamping
A touch with the outdoors fascinates travelers by adapting to their environment creating a survival experience. Camping is a viable option that requires a tent and a mattress.
Glamping, which is short for glamorous camping, provides the same experience as camping but a difference in the accommodation. these include tree houses, safari tents (spacious tents that can accommodate home facilities such as kitchens and furniture, and camping cabins.
Owino describes camping pods, an example of glamorous camping. 
"This is a small triangular house with a mattress placed on the floor that is very cozy," stated Kevin Owino.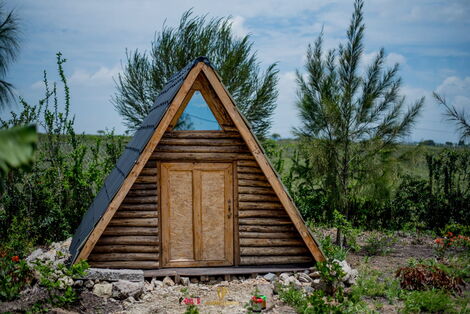 Photo of Camping Pod in Nkasiri Adventure Park in Kitengela, Nairobi taken on June 25, 2021.
Keitan Safaris Limited
Hotels & Motels
Hotels and motels are commonly known amongst the public when it comes to the tourism sector. Owino highlights more to do with this form of accommodation.
"There are also hotels which consist of different categories such as standard and luxury rooms depending on the hotel."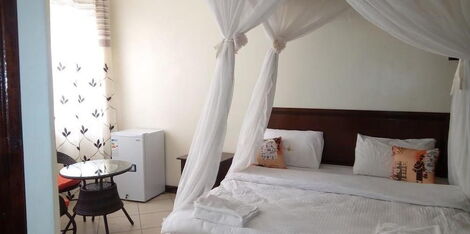 Inside one of the rooms at Marcia Hotel along Mombasa Road.
Twitter
Cottages and Villas
Kevin Owino differentiates cottages and villas from hotels providing travelers with a home away from home experience. "In a cottage or villa, one can be able to prepare meals and relax in its sitting area or lounge providing a homely experience," mentioned Owino.
He further considers villas more luxurious than the cottages providing more modernized facilities.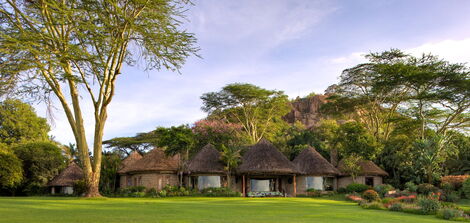 Ol Jogi Cottages.
File
Leisure Accommodation Vehicles
With this type of accommodation option, travelers can spend the night at their place of liking in their car. Owino mentions vehicles that can allow one to set up their tent on the roof.
"This option allows people to travel with everything and not to worry about the availability of accommodation by setting up a tent on top of the vehicle's roof," mentioned Kevin Owino.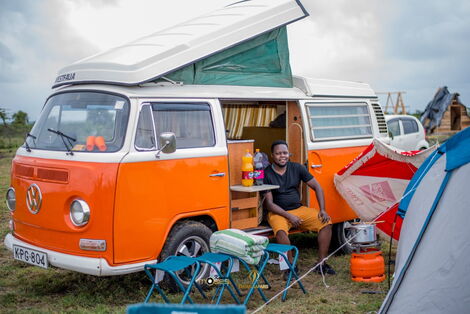 Photo of a form of leisure accommodation vehicle in Kenya taken on June 25, 2021.
Keitan Safaris Limited
Cultural experience
This option provides people with an alternative of staying in traditional houses experiencing the culture of the community. The locals will decide to give out their huts for people to stay in providing that cultural experience. 
"Once you get into the hut, you get to witness the cultural experience which is mostly in remote areas," commented Owino.
He further states the accommodation is also fairly priced estimated at Ksh 2,000.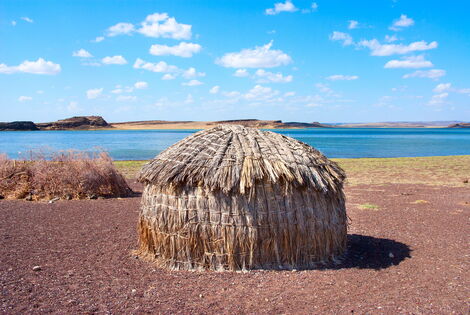 Photo of a traditional El Molo hut near lake Turkana taken on September 11, 2020.
Twitter
 Homestays 
This option allows the tenant or owner of the house to invite guests to their house. The global American company Airbnb has allowed people from all walks of life to market their homes on its platform.
"Here, people will avail a guest room or in an instance where they have traveled or not using the house they avail the whole house to people," stated Owino.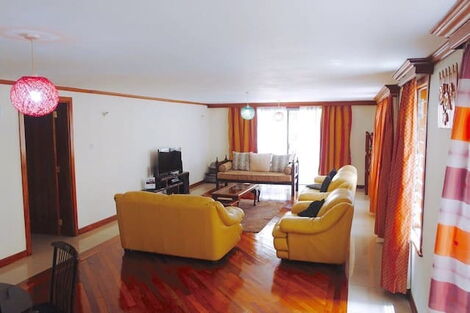 An Airbnb in Kilimani Estate, Nairobi.
Twitter