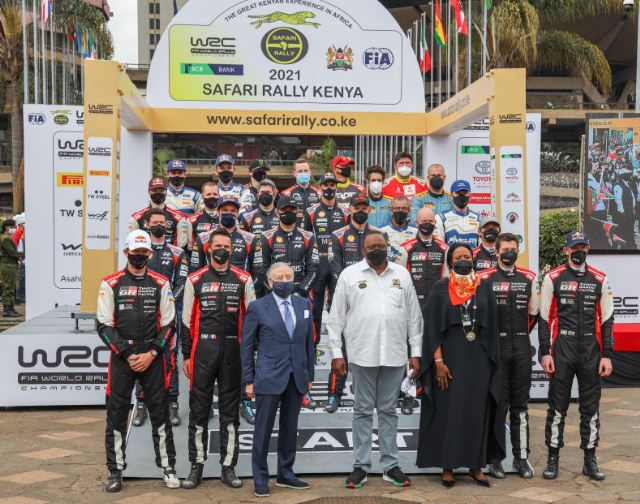 Speaking during the official launch of the WRC Safari Rally Kenya at Kenyatta International Convention Centre (KICC), on Thursday, President Uhuru Kenyatta said it took extra effort to bring back Safari Rally Sports back to its former glory.
This is after the sport was in 2002 dropped from the World Rally Championship and downgraded to the African Rally Championship.
The development he noted adversely impacted the sport, as well as the sectors related to the motorsport industry, that had flourished, for many years.
"In 2013, I pledged to my fellow citizens, that I would bring the Safari Rally back home. I also promised that I would return the Safari Rally to its position as one of the International Automobile Federation's (FIA) and World Rally Championship's (WRC) toughest rallies," he said.
"This goal has materialized 9 years later, into the spectacular event that we are all witnessing today. It has been a pleasure, interacting with the rally drivers, and I look forward to witnessing their expertise on the road."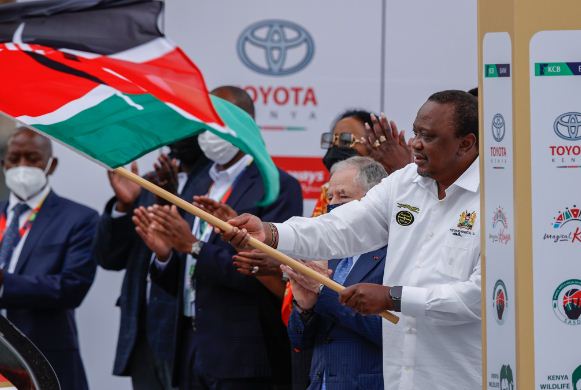 In the statement, the President thanked the World Rally Championship (WRC) Safari Rally stakeholders for allowing Kenya to host the event.
He noted Safari Rally holds a special place in Kenya's history.
"The Safari Rally is synonymous with our advancements as a people, and reveals our ambitions for a country, that is led by the dreams of its younger generations," said the president.
He also applauded the development of Safari Rally in the country over the years.
"The Safari Rally was first held in 1953 to commemorate the coronation of Her Royal Majesty Queen Elizabeth II," he said
"In 1973, the Safari Rally gained admission to the International Automobile Federation (FIA) World Rally championship (WRC), thereby elevating it to the international event that we are witnessing today.
"Over the years, the rally maintained its 'rough and tough' reputation. It ensured that we tested both our physical limits on the roads, and our innovative strengths in the development of bigger and faster machines."
He also thanked the President of the International Automobile Federation (FIA), Mr. Jean Todt, the World Rally Championship team and all those that have been part of the journey.
"Let us all enjoy this charged and colorful event, which, I hope, will be ingrained in our common psyche for many years to come," he added.
"To the drivers, I wish you all the best in the coming days as you take part in this year's Safari Rally Championship. Thank You All and Best of Luck."