Uniformed officers in Kenya and the world over go through rigorous training funded by the taxpayer.
From first – hand accounts of individuals who have gone through Police and Kenya Defence Forces' training, it is evident that these officers have rightfully earned their title of disciplined forces.
Hard times brought about by the pandemic prompted a number of Kenyans to sign up for the recruitment process early this year. This year's recruitment marred with incidences of canvassing and bribery.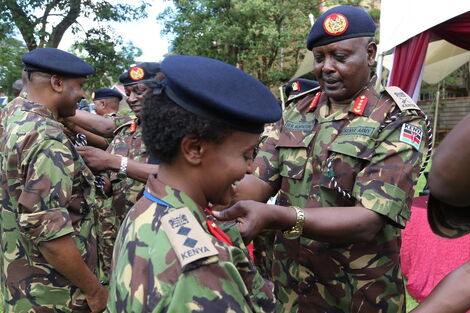 Army Commander Lt General Robert Kibochi elevating an officer to Colonel rank.
File
Officers involved in the solicitation of bribes have been charged in both civil and military courts in order to clear the mud that stained the countries internal and external security organs.
To that effect, rules have been put in place to ensure that the two remain what they are known to be – disciplined forces. The police have a dress code which they are made to adhere to.
Dress Code.
In August 2020, Inspector General Hillary Mutyambai issued a warning to the officers stating that disregarding the dress code violates the regulations provided under Chapter 31 of the Service Standing Orders(SSO).
"Police uniforms should not be worn with any visible article of civilian clothing, articles or anything that is not police uniform. Mixing of uniform will not be allowed," Mutyambai said in the letter.
Female police officers are required to put up hairstyles that do not exceed the collar of their blouses.  They are also not to wear discreet make-up and only use clear nail polish.
Social Media.
On June 17, the police boss banned officers from airing their grievances online. He also cautioned police against uploading videos on social media of them dancing or uttering obscene while in police uniform.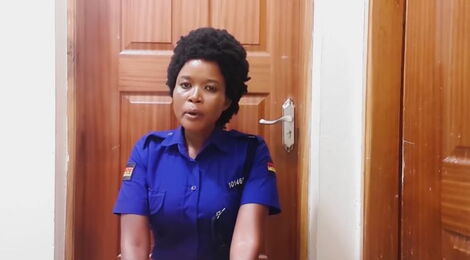 Viviana Williams, a traffic officer who requested to be allowed to resign from the police service
YouTube
A police officer is not allowed to appear in testimonials or advertisements without the approval of the inspector general.
Tattoos.
Members of the Defence Forces cannot have any tattoos as they are considered to be carriers of other diseases yet the job requires one to be fit. In addition, individuals with tattoos are assumed not to be serious enough.
Dental Formulae.
The proper dental formula is also mandatory. During an interview with NTV, Captain Werunga explained that the police are required to have all their teeth since soldiers will survive on dry-ration food in difficult terrain. 
" You need to be able to survive on anything. Even snakes and twigs when you don't have the normal ratio, "Captain Werunga explained.
Unknown to many, accused officers are prohibited from smiling, flinching during court and can only talk when taking their plea during martial proceedings. Notably, officers from both forces are not allowed to strike or hold public demonstrations.
On April 30, Interior Cabinet  Secretary Dr. Fred Matiang'i banned senior police officers from having intimate relations with junior officers.
Advertisements.
According to the National police service standing orders, without the approval of the Inspector General, a police officer shall not authorize the use of his or her name, photograph, or official title, which identifies him or her as a police officer, in connection with testimonials or advertisements of any commodity or for any commercial enterprise.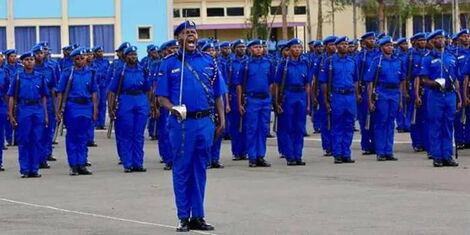 Kenya Police during a parade
Twitter