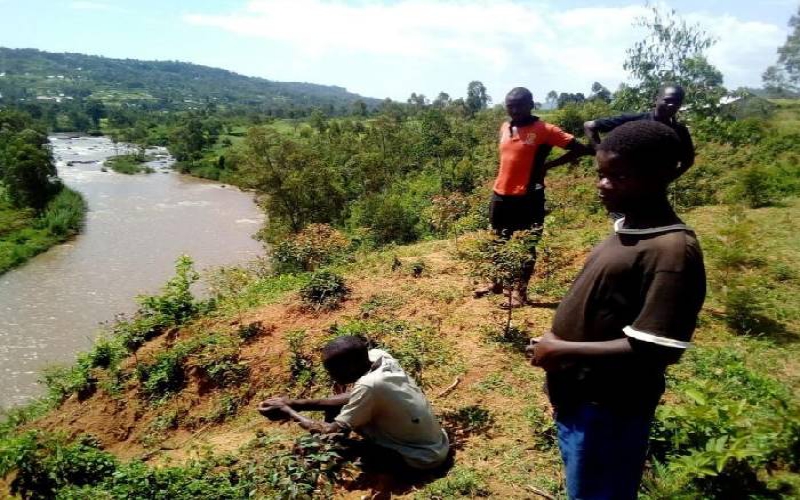 Residents of Atella village in Rachuonyo East, Homa Bay County have accused the police of 'punishing them' after failing to pick a decomposing body of a man in a local river.
According to locals, the body of an unidentified man has been lying at the bank of River Miriu for nine days after police ignored reports to pick it.
The man is suspected to have died elsewhere before the body was moved by water to the current location with locals finding on June 16.
According to the Luo traditions, bodies are accorded respect hence the move by locals to tie it for easy retrieval before reporting to the police.
 "The aim of tying the body was to enable security officials or family members to collect and take it to a morgue," said Philip Otieno, a local.
Owiti said they reported the matter to the area chief and the police but for the last eight days, no one has come for it.  
"Good Samaritans tied the body. We reported the matter to the area Chief so that they could remove it but nothing has been done," Owiti said.
Locals now say the decomposing body has become a health risk to locals.
The smell emanating from the body has forced locals to stop using the river which has been their main source of water for domestic use.
Mercy Achieng', a resident, said the surrounding is so stinking that residents cannot stay around the river.
"Existence of the body has forced us to stop using water from the river. Air pollution has degraded our environment," Achieng' added.
They have called on police to remove the body from the river to prevent further pollution of the environment in the area.
Rachuonyo East Sub Deputy County Commissioner Kiprotich Rop said he had directed police to remove the body.
He said collecting the body delayed after it was found at the boundary of his Sub-county and Nyakach Sub-county in the neighbouring Kisumu county.
"Initially, we thought the body was in Nyakach but we have established that it is in our Sub-county. I have told police to remove and take it to a mortuary as soon as possible," said Rop.