Runda, Nairobi residents have reportedly fallen out with officials of the association tasked with offering services in the estate. 
They were aggrieved that Runda Association was offering poor services in the neighbourhood. Over 1000 houses in the estate are registered members of the association. 
The union is tasked with providing recreation and enjoyment which boosts social activities in the neighbourhood. 
It also oversees the security and development of common and natural resources in Runda alongside the development of infrastructure.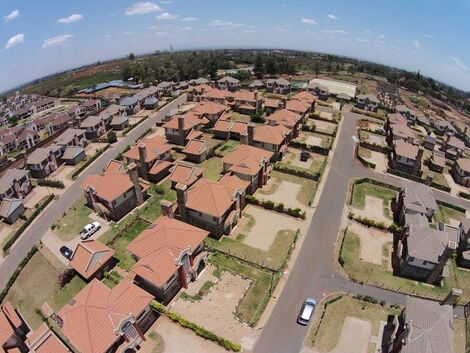 Maisionettes constructed in Runda, Nairobi.
Twitter
On matters of security, they complained that the area was witnessing an influx of thugs posing as boda boda riders.  Their complaints were allegedly being overlooked. 
Residents further lamented that the union was delaying elections and nomination of new officials. 
A section argued that the incumbent leaders were frustrating aspirants and wanted competitors barred from contesting. 
They added that they were also being denied access to key information which directly affected members. 
The matter is poised to escalate to court after one group issued the other with a demand letter lamenting over the aforementioned issues. 
"We understand that many of the Committee members have served for more than 10 years and some even 15 years and there have been unilateral selection trustees without the direct involvement of the general membership contrary to the Association's Constitution," an excerpt of the letter reads. 
The residents allegedly adhere to strict estate guidelines, some of which were reported to at times lockout new tenants. 
Some include barring the general public from loitering, dumping or burning trash while the maximum speed for all vehicles is 30 km/hr.
A wealth report by Knight Frank released in February 2021 detailed that tenants were deserting Runda for Tigoni in Kiambu County and Miotoni in Karen, Nairobi in search of more privacy, outdoor space and areas they can acquire at lower prices. 
Those fleeing were alleged to be wary of the estate being congested due to the high number of new tenants. 
A signpost spelling out rules for access to Runda Estate in Nairobi.
Twitter