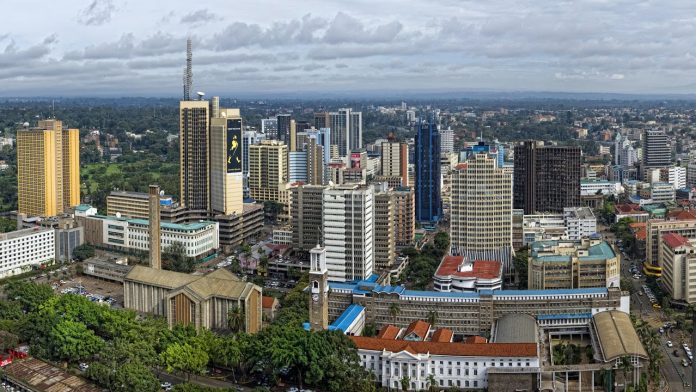 Property owners who miss the Nairobi Metropolitan Services (NMS) deadline to repaint their buildings face a daily fine of Ksh1,500 for each day of non-compliance.
The deadline lapses in August, leaving property owners with two months to ensure they have a fresh coat of paint on their buildings. NMS had granted a one-year extension after first issuing the directive in August 2020.
All buildings in the capital were to be repainted within 60 days as part of a larger beautification plan for Nairobi being undertaken by authorities. Owners were required to use colors originally approved by City Hall as part of their building plans.
At the time, however, NMS acquiesced to the demands of business owners who vehemently opposed the directive citing the economic shocks occasioned by the pandemic.
"The business owners decried having been affected by Covid-19 to an extent where they had to lay off staff. So they requested a one year extension so that when their businesses pick up, they will repaint their buildings and we considered the request," NMS Director General Maj. Gen. Mohammed Badi stated.
A number of properties including businesses and government offices have already been voluntarily repainted.
Badi disclosed that state-owned properties in the capital were repainted after ministries were directed to do so. As for businesses, NMS engaged the Kenya Private Sector Alliance (KEPSA) leading to a number of property owners choosing to repaint their buildings ahead of the deadline.
Properties owned by City Hall in areas including Kairobangi North, Ziwani and Huruma estates are also being repainted.
County by-laws and the Public Health Act Cap 42 mandates property owners to repaint their buildings at least once every two years.
"Any person who is guilty of an offence under, or convention of, or default in complying with, any provision of these Rules shall be liable to a fine not exceeding Sh1,500 for every day during which the contravention continues," the Public Health Act provision reads in part.
Previous attempts to ensure compliance with the directive have, however, fallen flat. In 2019, the County government issued two different orders for re-painting of properties and several arrests were made, but not much changed after.