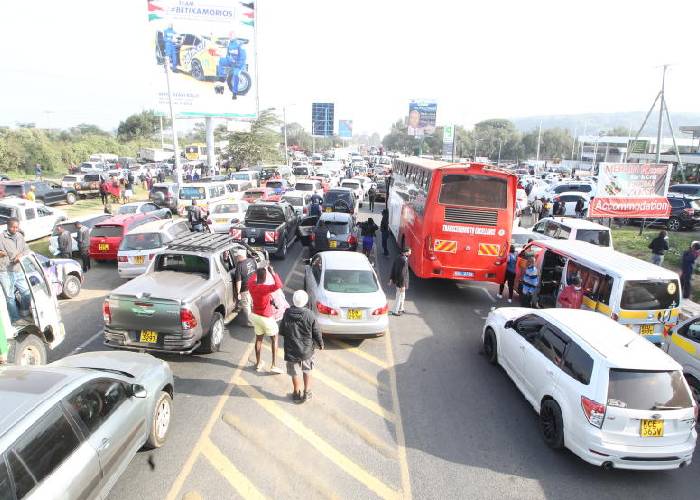 Hundreds of motorists spent many hours in traffic Saturday, June 26, on the Nairobi-Nakuru highway following the ongoing 2021 World Rally Championship. 
The jam resulted from the closure of sections of the highway to allow the competing safari rally drivers to use the section between Naivasha and Sosyambu.
The closure at the Naivasha-Kinangop junction saw the jam stretch for over 20 kilometres on the Nairobi side as the motorists sought alternative routes to Nakuru.
The motorists were left frustrated as police stood their ground that no one could use the highway.
However, traders along the highway took advantage of the traffic snarl-up to sell meals and other items to the stranded motorists.
On Monday, the government gazetted several roads in the country that would be closed this week to give the drivers competing in WRC the right of way.
"This event has created business for some people and ended up messing the lives of hundreds of others and this is unfair," he said. 
Rachel Wamuyu, another motorist said she was headed to Nakuru for a critical appointment but the closure had shattered her plans.
"The closure of the road will cost many people and businesses dearly and it's unfair to concentrate on the rally at the expense of others," he said.
Joel Wafula, one of the affected passengers who was travelling to Kakamega, said the closure had inconvenienced them.
He expressed fear that most of them might be caught up by the 7 pm curfew that has been imposed in several counties in Western Kenya due to a surge in Covid-19 cases.
"The rally is good but the organisers should consider other motorists who have nothing to do with this exercise," he said.
Daniel Kimani, a stranded motorist, wondered why the road was still closed by 11 am yet the rally cars were already in Soysambu.
Speaking to The Standard on phone, Naivasha police boss Samuel Waweru defended the move, adding that it had been gazetted earlier to give the motorists time to plan and reroute.
Monitor water pumps remotely via your phone
Tracking and monitoring motor vehicles is not new to Kenyans. Competition to install affordable tracking devices is fierce but essential for fleet managers who receive reports online and track vehicles from the comfort of their desk.