Well hello and welcome to Speed Feed by Kenyans.co.ke. This is where you catch a glimpse of everything that is happening around you that you need to know about, from news, politics, viral and hot stories, entertainment basically everything that is driving the conversation and is worth noting.
See below a summary of the top stories for Thursday, June 24.
Special Mention: Kenyans.co.ke has been ranked third in the country's top media brands by Reuters. Citizen Digital emerged top with (57) and Nation online (55) while Kenyans.co.ke scooped third with 52 percent. 
Shock at Auction
A section of motorists took issue with the prices put by the Kenya Revenue Authority (KRA) during the auctioning of 300 cars at Mombasa County.
One motorist lamented over the price of a Subaru Impreza which he alleged had a price tag of Ksh3 million while he pointed out that the make costs at an average of Ksh1.5 million in auto bazaars.
KDF Plane Crash
A plane carrying Kenya Defence Forces (KDF) troops crashed in Kajiado County in the wee hours of Thursday morning, June 24.
The accident reportedly left ten soldiers dead while 13 sustained injuries. Later on, KDF released a statement regarding the accident affirming that the injured troops had been airlifted for treatment at the Defense Forces Memorial Hospital, Nairobi.
Whistleblower's New Role
Spencer Sankale, the whistleblower in the Maasai Mara Heist, has landed a role as an associate member in the African Parliamentarian's Network Against Corruption (APNAC).
The announcement was made by APNAC's chair Shakeel Shabbir who affirmed that Sankale had played an integral role in exposing graft within Maasai Mara university. 
Immortalising Jakoyo
A section of MPs have called for the immortalisation of the late Gem MP Jakoyo Midiwo. This by having a facility at Parliament Buildings named after him for his commendable tenure as a politician. 
BBI Case Panel
Court of Appeal President Justice Daniel Musinga has named the judges who would determine the case involving the Building Bridges Initiative (BBI). 
The judges include Justices Roselyn Nambuye, Hannah Okwengu, Patrick Kiage, Gatembu Kairu, Fatuma Sichale, and Francis Tuiyott. 
The judges including Musinga will constitute a seven-judge bench that will hear the BBI case between Tuesday, June 29 and Friday, July 2.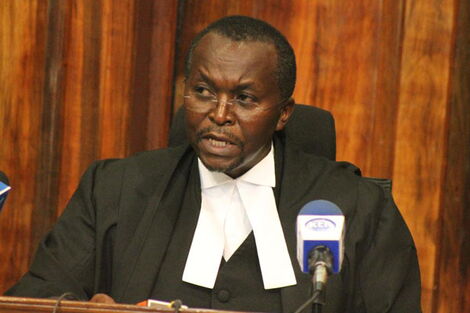 President of the Court of Appeal, Justice Daniel Musinga