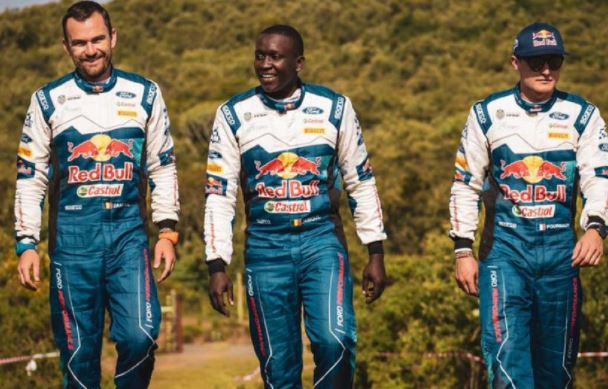 The return of WRC Safari Rally to Kenya after 19 years is proving to be a blessing to some local spectators.
One of the fans had the rarest opportunity on Wednesday to steer a world-beating driver in the rough Naivasha terrains.
Williams Magunga could not believe his eyes while sitting besides Red Bull driver Adrien Fourmaux during shakedown at the Ndulele circuit in Naivasha.
"It was like a dream come true," he told Standard Sports.
Magunga felt very special while calling out pace notes for the speedster who was very eager to listen to his commands in the 5.4km stretch.
"It was a lifetime experience.
"I survived! Can I do this again? It was a thrilling experience, being in the safe hands of one of the best drivers made the ride worthwhile," said Magunga.
"What I felt money can not buy.
"I'm honoured to have had this once in a lifetime opportunity!" he said.
Magunga grew up in Kisumu and had only heard of the Safari Rally on news.
"Even in adult, I had never been to any rally event.
"It was an ecstatic feeling being behind those wheels, in a  WRC rally car. I have no words to express my feelings," he said.
The Kenyan content creator received the lucky news through well-wishers who have been impressed with his storytelling skills.
Fourmaux and Magunga competed alongside other 15 drivers at the Ndulele circuit.
Apart from his storytelling, Magunga recently embraced visual content where he has a passion for travel projects.
He showcases Kenya's best spots and tells stories of his expeditions and people in the said regions.
Fourmaux claimed his first WRC point in the 2019 Rallye Monte-Carlo followed by ninth in 2020's Rally Turkey and the 2021 season opener. He finished an impressive fifth at Rally Croatia in his first outing in the Fiesta WRC Car.
QUOTE
"I can't believe that my talent finally paid off, it turned into a mind-blowing co-drive with Red Bull
athlete and M-Sport Ford team driver Fourmaux." Kenyan Rally fan Williams Magunga.
Other Red Bull drivers at the ongoing Safari Rally in Naivasha
Sebastien Ogier
Elfyn Evans
Thierry Neuville Takamoto Katsuta
Kalle Rovanpera
Dani Sordo ahead of WRC Safari Rally showdown