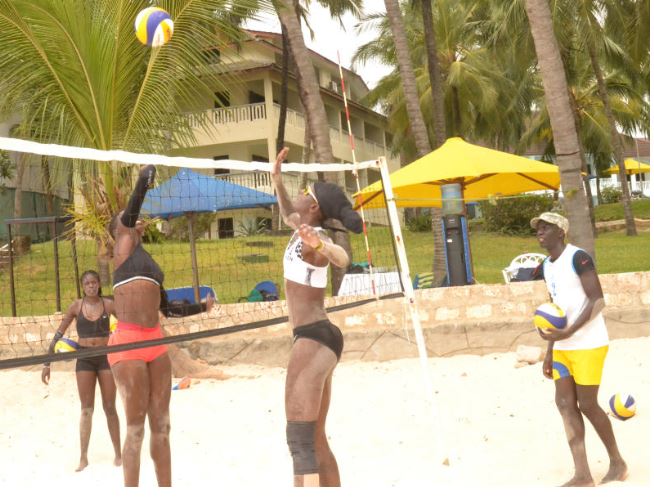 Kenyan Women Beach Volleyball team was on the top of the podium after they secured a place in next month's Tokyo Olympic Games after winning the Africa Continental Cup cum Olympic qualifiers in Agadir, Morocco.
The win made Kenya's Olympic dream come true after they dismissed Nigerian teams in a tension but action-packed final.
Kenyan team of Brackcides Agala and Gaudencia Makokha beat Nigeria's pair of Amarchi Uchechukwu and Francisca Ikhiede 2-1 (17-21, 21-18, 15- 10) while captain Phoscah Kasisi and Yvonne Wavinya easily silenced the duo of Albertina Francis and Tochukwu Nnoruga 2-0 (21-17, 21-10).
"We are all pumped up and looking forward to our dream debut at the Olympics. It's a pleasure to represent Africa in women beach volleyball," said joyful coach Sammy Mulinge.
"It took a lot of hard work and sacrifices behind the scenes especially with Covid-19 pandemic challenges to get where we are now. We have no time to relax as the task ahead of us is gigantic. We are going to face the world's best teams and we need to be well prepared to challenge our opponents," said Mulinge. "I am both thrilled and excited. Glory be to almighty God," said Kenya Volleyball Federation President Waithaka Kioni.
Prior to the final, Nigerian coach Francis Imoudu had said that their focus was to grab the sole ticket and represent Africa in Tokyo.
Kenyan men were eliminated from the Olympic qualifiers by Mozambicans and were relegated to play at the classification level to determine their ranking position.
En route to the final, the Kenyan girls shocked many after they defied all odds to shock the host Morocco on Saturday in a pulsating semi-final match. Nigeria made it through after Egypt was disqualified after some of the delegates tested positive for Covid-19.
In the semi-final match, Kenya got a shock in the first match after the Moroccan team ran away with the game 2-0 before the Kenyans came out stronger to win in the second match 2-1 and set a golden match meet up with the tournament favourites.
Kenya Team Two comprised of Wavinya and Kasisi lost 2-0 (14-21,11-21) to Morocco's Team One of Imane Zeroual and Imane Yakki while Kenya's Team One of Agala and Makokha rallied to beat Morocco Team Two of Nahassim Essayad and Alex Naowal 2-1 (21-12,18-21,15-8) and set up the golden match.
In the golden match, Morocco picked the pair of Zeroual and Yakki while Kenya fielded Makokha and Agala where the Kenyans won 2-1 to seal a place in the final.
Initially, Kenya was to play Egypt in the final but the latter was disqualified after the African Volleyball Confederation "CAVB" considered Egypt and Tunisia men teams as well as the Egyptian women team as forfeit after each team had one official testing positive for Covid-19  on Saturday.
The decision was taken after consulting the international volleyball governing body "FIVB" according to the regulations of Covid bubble made for the competition and according to the FIVB regulations on February 1, 2021.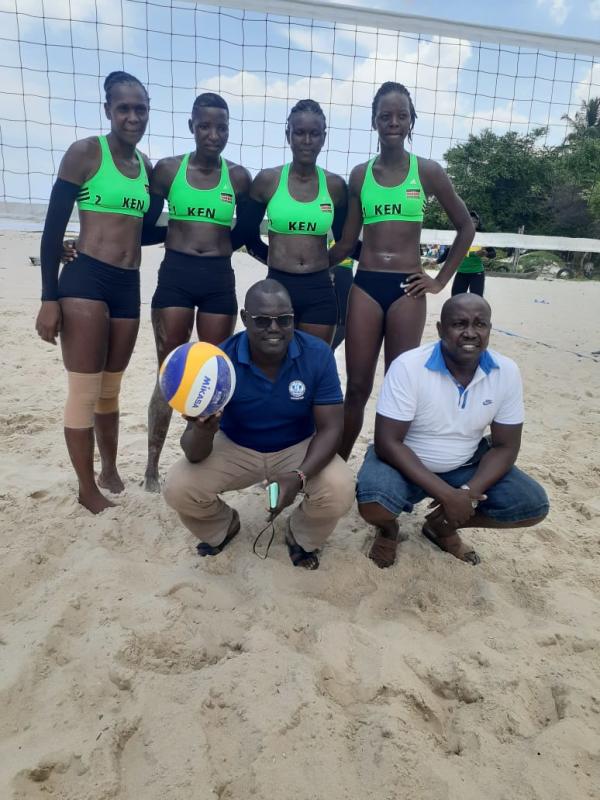 With the decision, Egypt women team was considered forfeit in their semifinal match against Nigeria thus enabling semifinal losers Nigeria to proceed to the final.
Egypt and Tunisia men teams were also considered forfeit in their playoff 5 to 8 positions and Mozambique, Rwanda qualified directly to play for the 5th and 6th places.
In the men's final, host Morocco grabbed the sole ticket after the Mozambique teams in the final. In the first match, Moroccan pair of Zouheir Elgraoul and Mohammed Abicha who played in the 2017 World championships beat Mozambique team of Jose Mondlane and Eldevino Nguvo 2-1 (21-16, 18-21, 15-10) while El Azhar and El Grarouti dismissed Ainadino Martinho and Jorge Monjane 2-0 (24-22, 21-18). Gambia claimed the bronze medal after silencing Ghana 2-0 (21-18, 21-14) in the golden match after tying 1-1
Team Kenya
Men
Ibrahim Oduor
James Mwaniki
Enock Mogeni
Brian Melly
Women
Phoscah Kasisi
Yvonne Wavinya
Brackcides Agala
Gaudencia Makokha