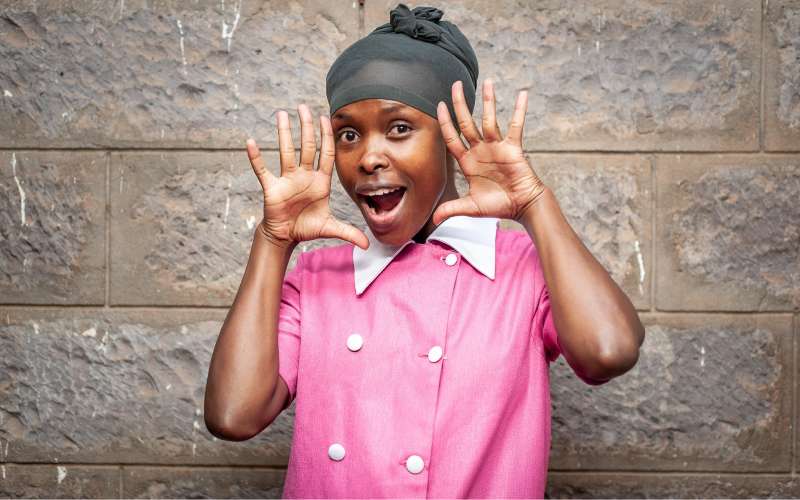 Celebrated popular actress Jacky Vike, popularly known for her role as Awinja in Papa Shirandula TV series celebrated her birthday in a touching social media post. Acknowledging that it has not been an easy year, Jacky revealed her wish to cancel 2020 from her age.
Through the emotional post on her page, Awinja listed some of the things she went through in 2020 including losing loved ones and having anxiety attacks but in the end noted that's just how life goes. "Grateful to be celebrating my birthday today, grateful for another year yes, but 2020 has been that year that I have had crazy anxiety attacks, buried people close to my heart, but I am grateful for good health and life, coz it's just life," she said.
She quipped that since 2020 was a year many wanted to overwrite, it was safe to say her age remained the same since the year was definitely not worth counting.
"Alafu pia nyinyi mnajua hatuhesabu 2020 (You all know we're not counting the year 2020) so my age remains," she added.
On the anxiety attacks, Awinja was encouraged by TV presenter Lillian Muli who took to the comment section to reveal that she too suffered the same predicament but advised the mother of one to keep praying about it.
"Happy Birthday Beautiful. I used to suffer anxiety attacks but they stopped when i stopped taking anything with caffeine also pray, pray, pray. Anxiety is a manifestation of fear and the spirit of God is not a spirit of fear. God Bless you and may you remain as beautiful inside as you are on the outside," Lilian wrote.
The past few months have not been easy for the actress following the death of her mentor and the person who made her into a star, Charles Bukeko alias Shirandula. In an emotional tribute, Awinja told a story of how Shirandula changed her life by giving her a chance that she thought was too complicated for her.
"I went for some auditions after my debut on Wash and Set and it happened that Charles Bukeko was on the interview panel. They were really happy with my performance yet it was something totally different from Awinja because I auditioned with a different character. No accent, no nothing. I went for the second audition, the third one and we were just waiting to be called to shoot the main thing but I don't know what happened the project never went through," she narrated.
According to her, the late Charles Bukeko never forgot about her and therefore, he reached out to her a year later.
"But after like a year Charles Bukeko called me for a house girl role and when he mentioned that this girl is from Mumias and she has to have a Luhya accent, I said you know what….No I can't. I'm not good with accents but I know someone who will hack it so I ended up giving someone else's number. But then again I don't know what happened. He still called me back and he's like you know what…come…we will work it out. So that's how the character Awinja was born," she revealed.