If you have travelled to one of the many areas in Kenya with large water bodies, you have very likely come across bridges. But have you ever wondered how the pillars holding the bridge were built inside the water bodies?
There are three main methods that are used by Civil engineers to build these marvelous structures namely; battered piles, case drilling, and the cofferdam technique.
1.Bartered Piles.
The battered piles are the method that was used to build our very own Nyali bridge in Mombasa County whose construction was completed in 1980. 
The engineering marvel is 391.65 meters long and 26.3 meters wide and It boasts a total of six lanes.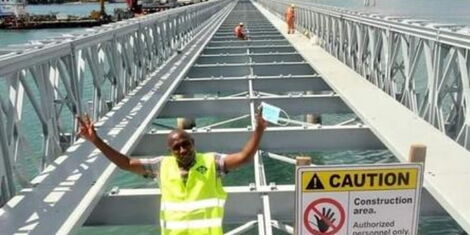 The Likoni floating bridge in construction phase Likoni, Mombasa county in 2020
Opera news
The bridge's foundation is laid by filling the particular location for a temporary period, over which piers (a type of pillar can be built). 
When the soil is not favorable in the top layer for constructing a bridge, temporary rigs are erected and piles are constructed deep inside the river bed. 
Then the bridge can be built either by taking support from the already constructed piers or by temporary platforms or mud-islands in the water.
2.Cofferdam Technique
 A wall enclosing an area is built inside the water and water is continuously pumped out from the area. After that, the foundation of the bridge (the pillars) is constructed inside the cofferdam.
 As the construction place is sea or river, 24-hour monitoring is required outside the cofferdam to check high tides of water. Bridges built using this technique are strong and carry heavy loads.
3.Case Drilling
This is the most advanced technique. In this technique, a watertight chamber keeps the water away with the help of air pressure. 
Then a sealed tube chamber is fitted inside the chamber. After that, a long drill is put inside the tube and then the drilling process starts. Water filled during this process is pumped out. 
After that, a case is inserted into the hole which is drilled inside to give extra support. In this way, a stable frame is created. This frame is filled with concrete. Then pillars are built and hence the bridge.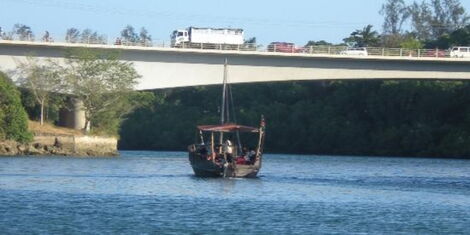 An undated picture of Mtwapa Bridge in Mombasa county
TripAdvisor