Beads of sweat ran down my face in tiny disorganized streams. 
One stream ran down my temple, zigzagged down my puffy cheeks, and trickled down my chin and onto my fast-soaking blouse. Other streams ran down my forehead, meandered down my nasal bone before hitting my lips with a salty bump.
Coupled with the tears that were running riot on my amateur make-up skills, my face looked like a tie and dye kitenge project gone bad.
This was my first experience inside the belly of the infamous police land cruiser, or mariamu if you like.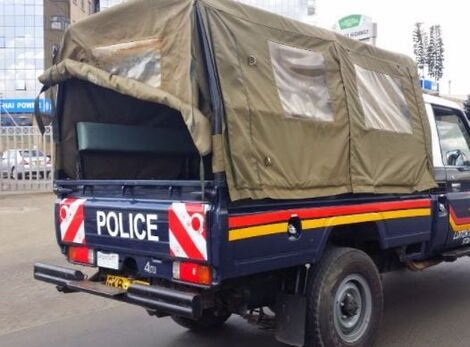 A police car in Kenya.
Twitter
The 'face-me' benches installed in the back of the beast didn't exactly help keep my wrecked nerves in check. 
I tried to hide my trembling hands by tucking them beneath a tight fold on my chest but it was of no use.
A uniformed officer was literally sitting across from me. His knees were in a staring contest with my own, regularly crashing into each other each time the mariamu hit a bump as it ghosted across the now deserted streets of Kisumu city.
It was just a few minutes past 8 p.m.
On my immediate left sat another officer. He had one of those faces that could induce a voluntary confession from the most hardened criminal.
They both had their service-issued rifles laid out neatly on their laps as you would a beloved pet.
So there I was. A supermarket attendant shaking like palm tree leaves caught in a storm of biblical proportions. 
My bad kitenge face got slapped with occasional beams of light whenever rays from street lights streaked through the open end of the police cruiser.
"Try and relax madam. Everything will be ok," said the officer seated across from me. 
"Yes. Try and remain calm," the other added. The high-pitched voice didn't match his confession-inducing face. 
I really wanted to believe them. 
But everything had just happened so fast. I barely had time to think. To process it all. To find some semblance of comfort in their reassuring words.
One minute I was going through my daily tally after closing up at the supermarket, and moments later I was running across the city streets like a deranged being.
A call from my neighbour informing me that my 9-year-old son had collapsed and that he was being rushed to the hospital shook me to the core. My recollection from that point on is a complete blur.
I just kept running, while trying to flag down any car that happened to be passing by.
That is how I ended up in the company of my well-armed companions.
My phone was vibrating, buzzing around in my purse like a swarm of bees trapped in a tin. 
"Madam simu yako inalia," 
I hurriedly plowed into my purse and pulled it out… my neighbour's name was flashing on the screen. 
"Hello" 
"Tumefika lakini wanaitisha pesa za emergency treatment ama story ya cover," she rapped out, barely catching her breath. 
"We are almost there," I was confused. 
"Muulize if they accept VISA huko," the cop with the confession-provoking-face shouted out…. He must have seen the confusion on my face. 
As it turns out they did and the good cop asked the driver to escort me to the hospital where they dropped me at the parking low. 
All along, my phone was glued to my ear so I rushed to the reception, hang up and went about paying using my Co-op Visa card, occasionally knocking knees out of nervousness. 
After a few hours of a nail-bitting experience that appeared to run into days, the doctor came to us at the waiting bay and announced the good news. 
"The boy will be fine. Everything went well".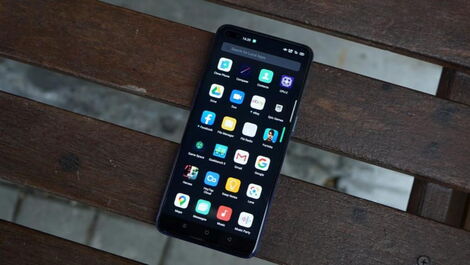 A smartphone placed on a bench.
File