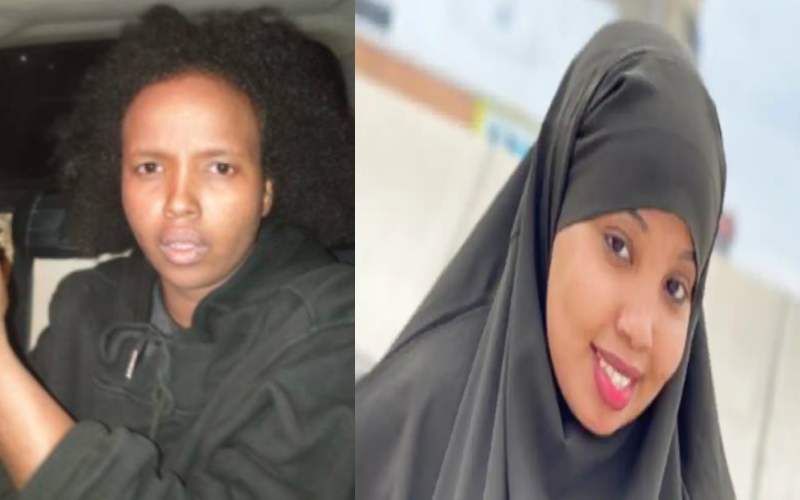 Hafsa Mohamed Lukman, the 23-year-old businesswoman, who was missing for five days has revealed that it was her friend who lured her to the kidnappers.
In an exclusive interview, Hafsa Lukman confirmed to The Standard that Hafsa Abdi, the woman arrested on Sunday morning at Kinangop with another suspect, was a mastermind in her kidnap and subsequent torture.
"She was my friend, though not a very close one, who led me to the kidnapping trap. She asked me to accompany her to Kayole where her other shop is located," she said.
Hours, before she was reported missing, surveillance camera recordings at her shoe shop, showed she (Hafsa Lukman) entered the store at 4:44pm on Tuesday, June 15.
She was in the company of another woman identified as Hafsa Abdulwahab at the time.
Hafsa Mohamed is seen in the surveillance footage leaving the store together with Hafsa Abdi, few minutes after they walked in.
Hafsa Abdi is seen making eye contact with an unknown man seated on the waiting bench at the shop when the duo is leaving the premises.
On that fateful day, (June 15, 2021) Hafsa Lukman says she was in her usual place of business at California in Eastleigh when Hafsa Abdi stopped by and asked to be escorted to Kayole.
"She told me she had a store in Kayole, where she was selling watermelon but when we got there, there was nothing apart from sawdust scattered all over," she said.
At the store in Kayole, Hafsa Lukman says she said her evening prayers (Maghrib) and then hell broke loose when she finished.
All this while her friend whom she had accompanied there was in a deep conversation on the phone via texts.
"When I finished my prayers, I saw two gigantic men approaching me and immediately they started beating me up," she said fighting back tears.
She said the men held her by the neck and started beating her up. They then covered her mouth with the sawdust barring her from calling for help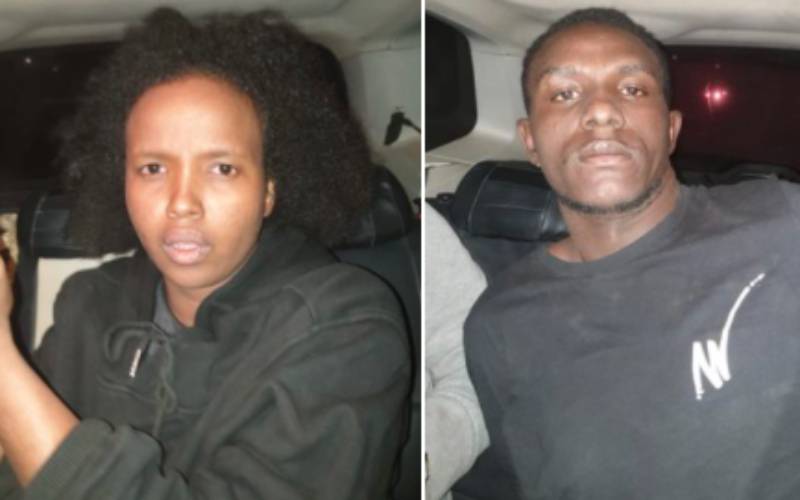 She adds after beating her up, they covered her eyes, tied her hands and feet then put her into an empty water tank which they used to transport her to a dingy house in Matopeni, where the detectives rescued her.
"My friend was watching all this while," she went on.
Hafsa Lukman, who is now recuperating after the ordeal, met Hafsa Abdi in California. She was her neighbour at the workplace where she sells watermelons.
She narrates how they grew fond of each other adding she had even loaned her over Sh700,000 for her fruits business.
"I trusted her and was always there when she needed me. I just want justice served for what they put me through. I am so happy they have been arrested," she said.
Hafsa Mohamed was rescued by police on Sunday, June 20. 
Criminal investigators arrested the two suspects, Jackson Njogu, 24 and Hafsa Abdi, 21, for Hafsa Mohamed Lukman's kidnapping and torture.
The two were arrested at Crystal View Lodge in the chilly Kinangop area where they had spent the night.
They allegedly fled from the scene when they realized detectives were closing in on them.
The two are yet to be arraigned.