Political analyst Mutahi Ngunyi has revealed a deal for NARC-Kenya party leader Martha Karua that could ultimately see her become Kenya's first female President during the 2027 General elections.
Speaking on his Youtube channel dubbed The 5th Estate, the analyst entailed that Karua's best move would be to forge an alliance with ODM party leader Raila Odinga in the upcoming 2022 elections.
He added that with Karua deputising Raila, the duo would become a formidable force and outwit Deputy President William Ruto's bid in the 2022 elections.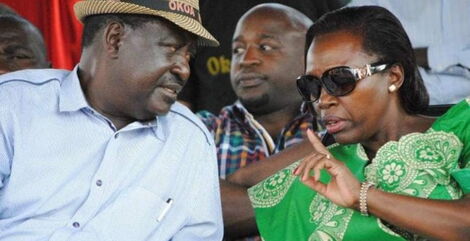 Former Prime Minister Raila Odinga (left) and NARC Kenya Party Leader Martha Karua (right) conversing at a past event.
Twitter
Further, Ngunyi pointed out that Raila would only be a transitional President due to his old age. This would result in the ODM leader retiring at 82 years paving the way for Karua to take office in 2027.
According to the analyst, Karua would only need to enlist support from Raila as well as President Uhuru Kenyatta in order to secure victory and make history as Kenya's first female President.
"Martha Karua could inherit Uhuru and a Raila-Karua alliance is a powerful path to this appointed destiny.
"In 2007, 2013, and 2017, Raila had an average of 44 percent of the votes. So, If Uhuru chooses Karua, do you think she would lack 6 percent of Mt Kenya votes to support her?" Ngunyi posed.
He compared Karua's tough and bold nature to former UK prime minister, the late Margaret Thatcher, whose stance on political matters led to London becoming a financial powerhouse.
The analyst further weighed Karua's options and pointed out that an alliance with Ruto would be her downfall. 
The NARC Kenya leader has been known to be vocal on political matters which earned her the moniker iron lady.
Recently, she has been at the front end, criticising the Building Bridges Initiative (BBI) – the brainchild of Uhuru and Raila. 
On multiple occasions, she has called for the preservation of the 2010 constitution with the Linda Katiba campaign and has further stated that the BBI was not a priority for Kenyans.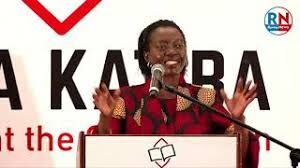 Martha Karua during the launch of the Linda Katiba Movement on February 1, 2021.
YouTube