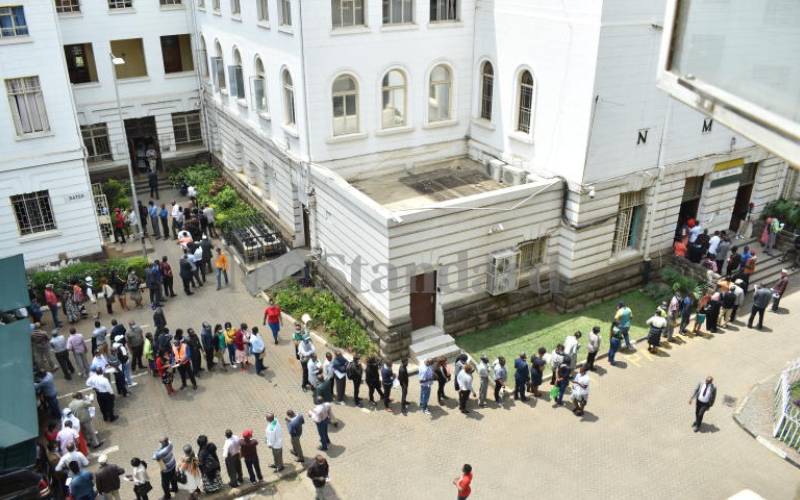 City Hall has introduced new levies to fund a Sh39.6 billion budget approved by the assembly yesterday. 
The county government seeks to collect Sh19.8 billion in the 2021/2022 financial year and receive Sh19.3 billion from the national government.
It will tax land and property owners, traders, gamblers and motorists to realise its targets.
The new levies will affect land rates, where property owners will be charged 0.13 per cent of the current land value in a proposed new valuation roll.
Currently, property owners pay land rates at 25 per cent of the unimproved site value based on the 1980 valuation roll.
Nairobi County Finance Executive Allan Igambi while reading the budget statement yesterday, said City Hall would also increase the number of rateable property in the city from the current 161,000 to approximately 300,000 through implementation of the Geographical Information System (GIS)-based valuation.
"The completion and implementation of the GIS-based valuation roll will result in capturing all property and rates charged based on the current land value, a departure from the current state where rates are charged as per the 1980 valuation," he stated. 
The GIS system is expected to salvage dipping county revenues collected from the 136 revenue streams. City Hall also plans to increase the number of registered businesses from the current 188,000 to approximately 500,000.
Igambi said this would be achieved through collection, updating and audit of data to have accurate information on single businesses in Nairobi.
Business permit
"Increasing the number of registered businesses is expected to increase revenue from a single business permit from the current Sh2 billion to approximately Sh5 billion," he added. 
City Hall is also counting on full implementation of the Nairobi City County Betting, Lotteries and Gaming Act, 2021, to net more than Sh200 million in revenue annually. 
The county government will collect 30 per cent of revenue from casinos and gaming centres in a sector that records an annual turnover of more than Sh5 billion.
The Act further provides that all betting, lotteries, and gaming premises will attract an entertainment tax chargeable at a rate of 20 per cent on gross winnings.
"We have proposed minor adjustments and new charges through the Finance Bill, 2021 with a potential of increasing the revenue by Sh2 billion," noted Igambi.
Property developers were not spared as City Hall is set to introduce monthly seasonal tickets for building materials transporters. 
The county government will also gazette more parking areas and zonal charging of parking bays, in a bid to collect Sh3.02 billion in parking fees. Motorists currently part with Sh200 in daily parking fees in the central business district. 
In the 2020/2021 financial year, the county collected Sh1.5 billion against a target of Sh2.8 billion.
Meanwhile, MCAs have hit out at the executive over slow implementation of development projects. 
Assembly Minority leader Michael Ogada decried poor absorption of the budget by the executive, while Budget and Finance committee chairperson Robert Mbatia said the assembly would step up oversight on service delivery.